July 2021 Newsletter
In particular, my site will feature an array of items available for purchase, including ready-to-ship original rose works made in clay and prints that can be ordered in multiple sizes, printed on a variety of mediums, available framed and unframed. Also, the site is equipped so that you can view potential purchases on a wall in different sizes (for prints), or even, with AR technology, see pieces on your own wall. For original works, delivery and installation will be free in the NYC area; outside of NYC, a separate quote for crating and shipping will be provided post-purchase. Happy shopping!
During July, I completed two commissioned works. 'Soil Study- Gelisols' is the second work in my 12-work soil study series, illustrating each of the 12 types of soil. My first L-shaped canvas, 'Soil Study- Gelisols' became an embodiment of 'firsts'. Not only was it my first L-shaped canvas, it was also the first time that I sculpted the roses directly onto the canvas (as opposed to making individual sculptures separately first). In terms of painting, it was the first time that I hand-painted the entire work in watercolor with a tiny paintbrush, after it was sculpted on the canvas as raw white clay sculpture. Usually, my watercolor painting involves mixing 'color baths' or large containers of watercolor and dipping the raw dry rose sculptures into these, often multiple times, to deepen saturations and into different color baths to hybridize color. Finally, it was the first time that I used petals alone in a piece, as well as partially formed rose sculptures, along with fully formed rose sculptures. The implications of mixing the sculpted developmental stages of roses in my pieces is huge and might lead me to do more representational work in the future, as utilizing single petals to build out pieces (still incorporating partially and fully sculpted roses in the works) could pave the way for portraiture or other realistic studies. A 'hmmm….'moment. Perhaps! 'Soil Study-Gelisols' will be installed in a private Manhattan residence in August.
Gelisols. Gelare means 'to freeze' in Latin. This type of soil is found in high mountain elevations and polar regions. In the US, Gelisols are only found in Alaska. They have a layer that remains frozen for years. The watercolor coloration represents a cross-section of this type of soil.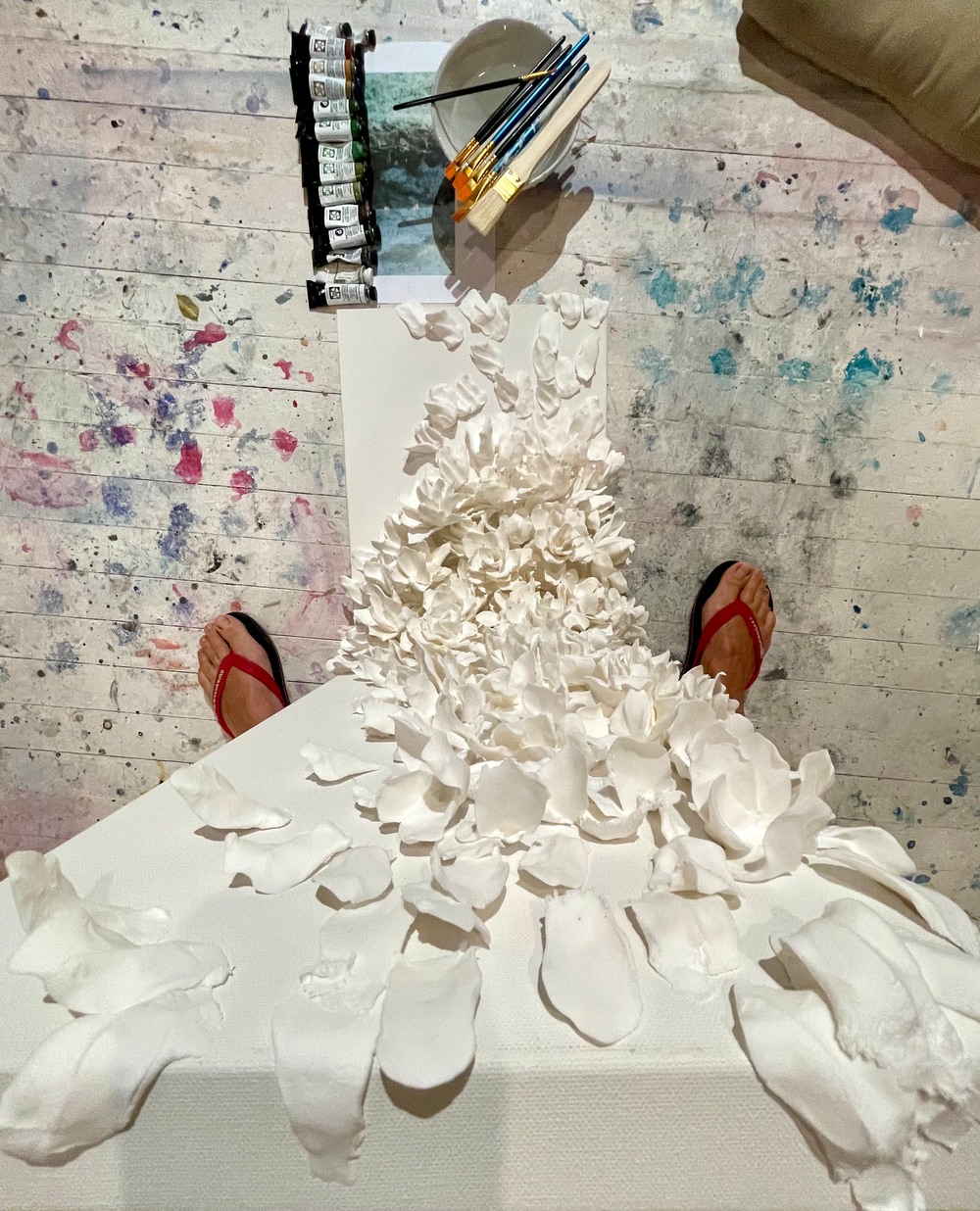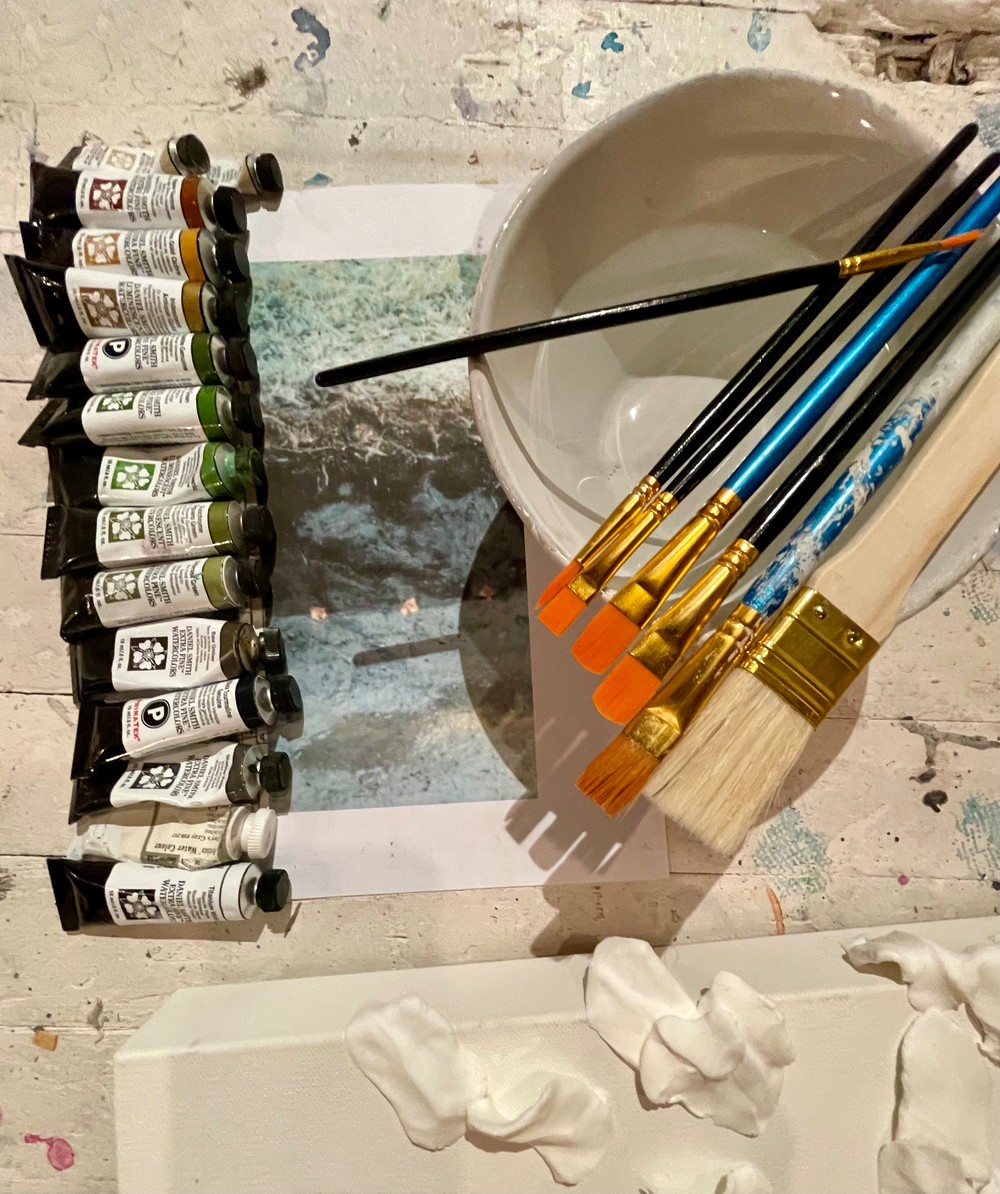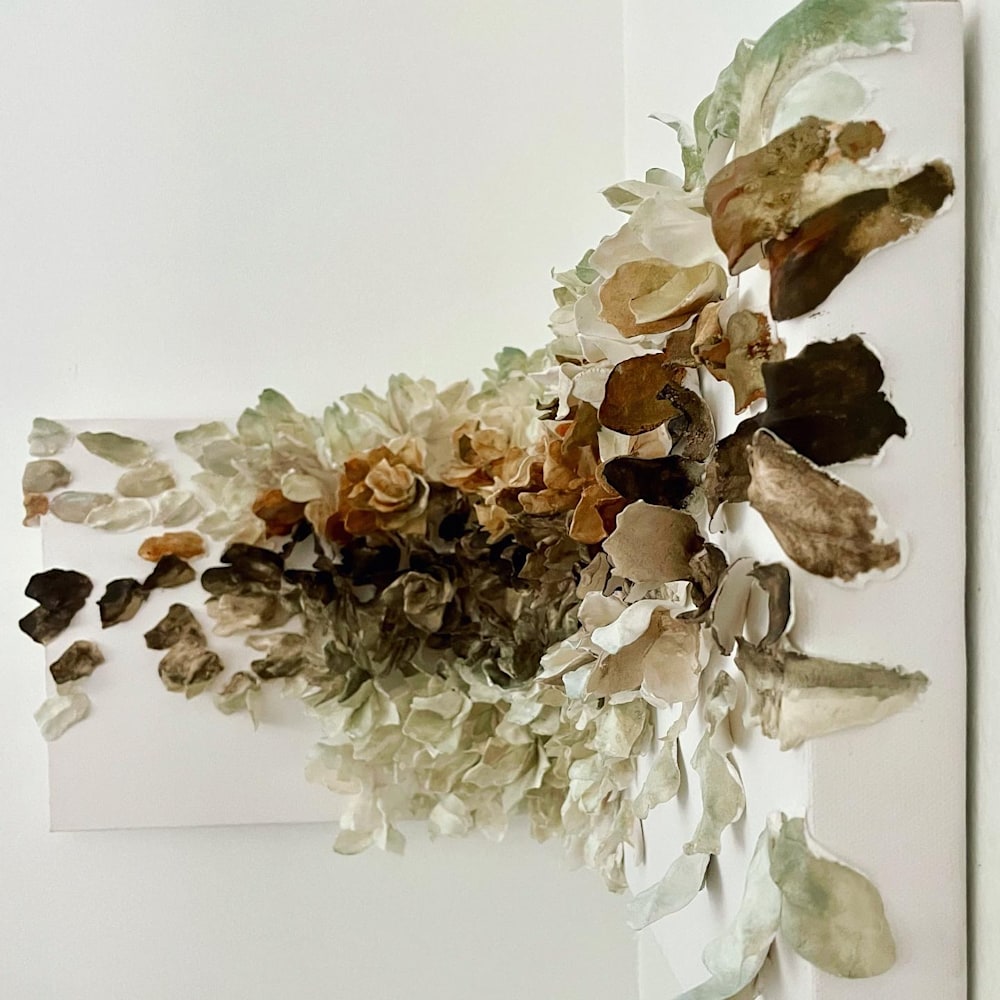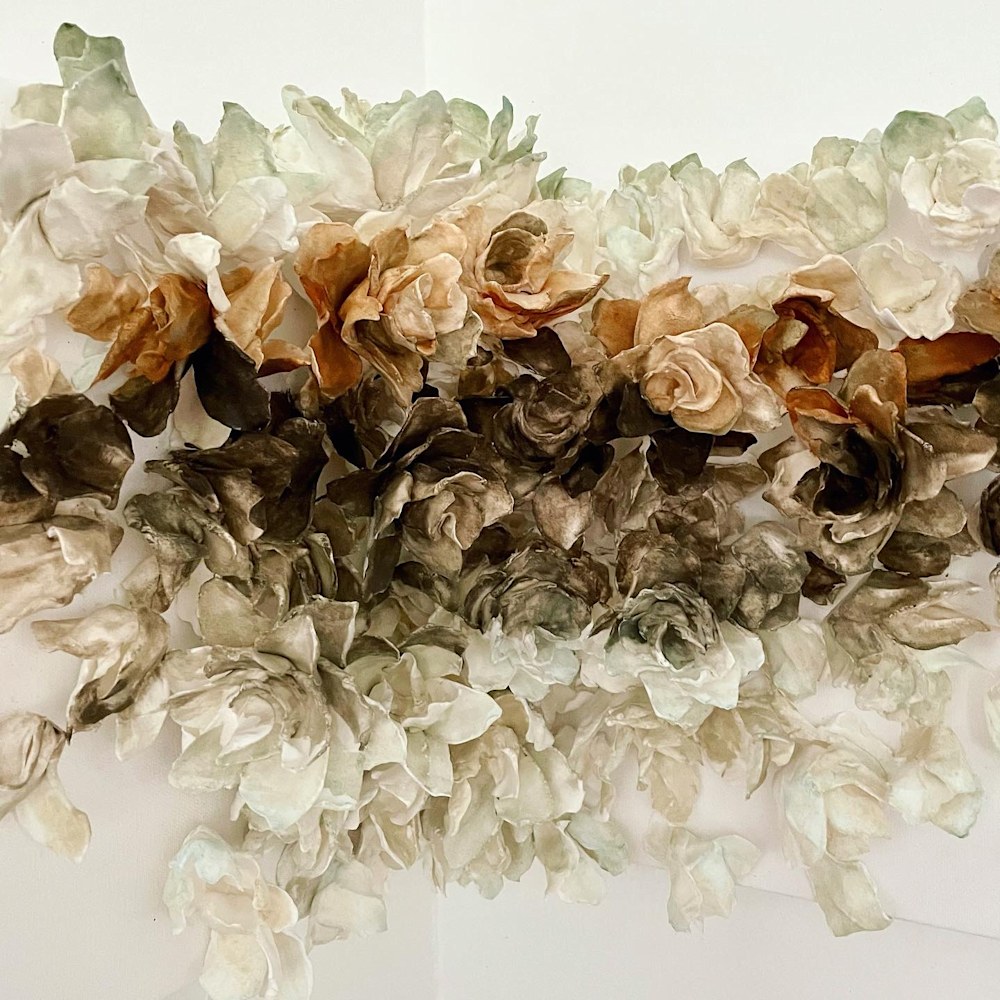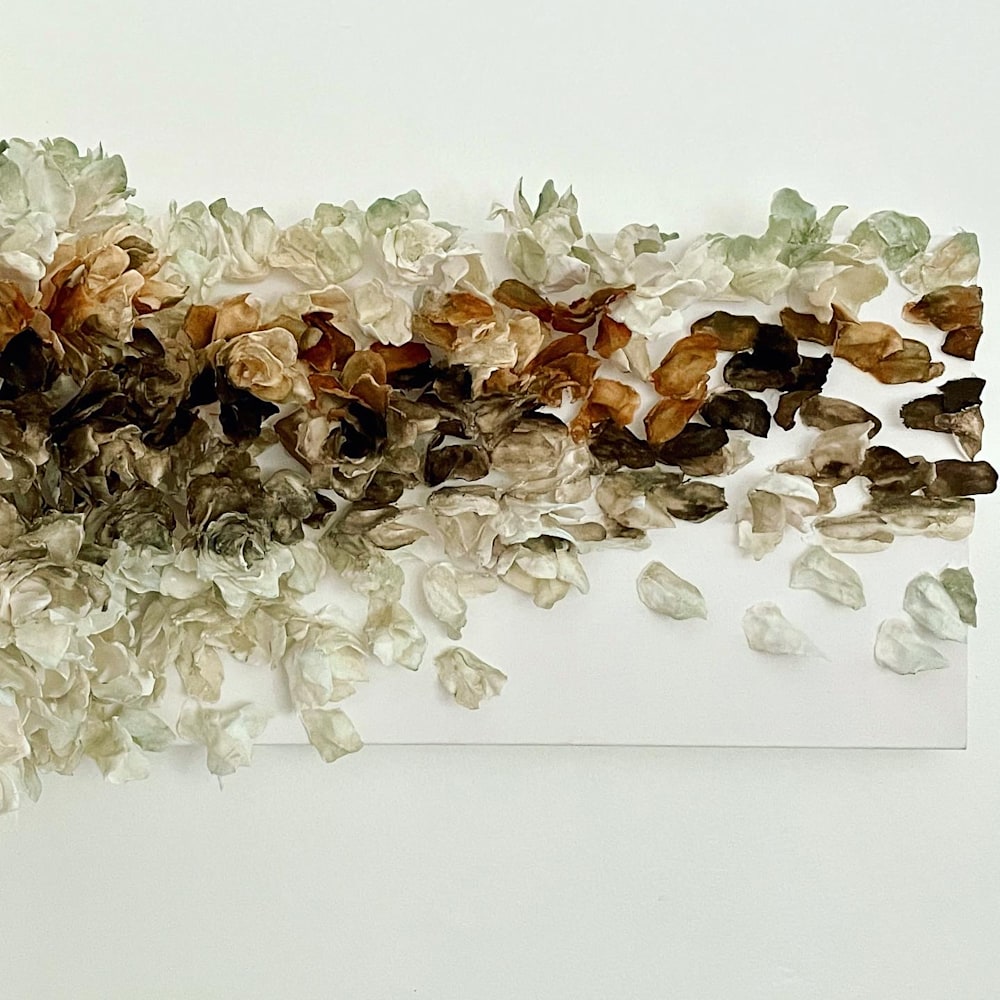 'Soil Study: Gelisols', 12" x 18" then 12" x 24", 2021.
Also completed in the end of July was a piece commissioned in June, a large Garden Bonanza in purpurite and apatite, that ships to a private residence in Aspen tomorrow. I had been curious prior to creating this one, how recent new forays in my sculpting techniques, painting, arrangement, and presentation would influence the creation of this piece. I had hypothesized that there would be evidence of these forays in the development of this Garden Bonanza and that I might even be able to trace those developments. But I was wrong! It seems that my series and techniques operate as separate entities, without cross-over, and not only did my recent pieces not actively inform the development of this piece, surprisingly, neither did previous Garden Bonanza creations. Instead, this piece, in studying it during its painting, assembly and final touch-up phases, dictated to me directly as to what to do next. Sheer replication was not on the menu. The process of creating remains so mysterious this makes me smile, reminding me that it is this very same mysterious creative force that lets me know instinctively when each individual sculpted rose is done, when the last petal has been added, and when to move on to making the next. To not be able to accurately predict with measured intelligence in advance is delightfully humbling; it's what keeping me compelled and aching to create more work.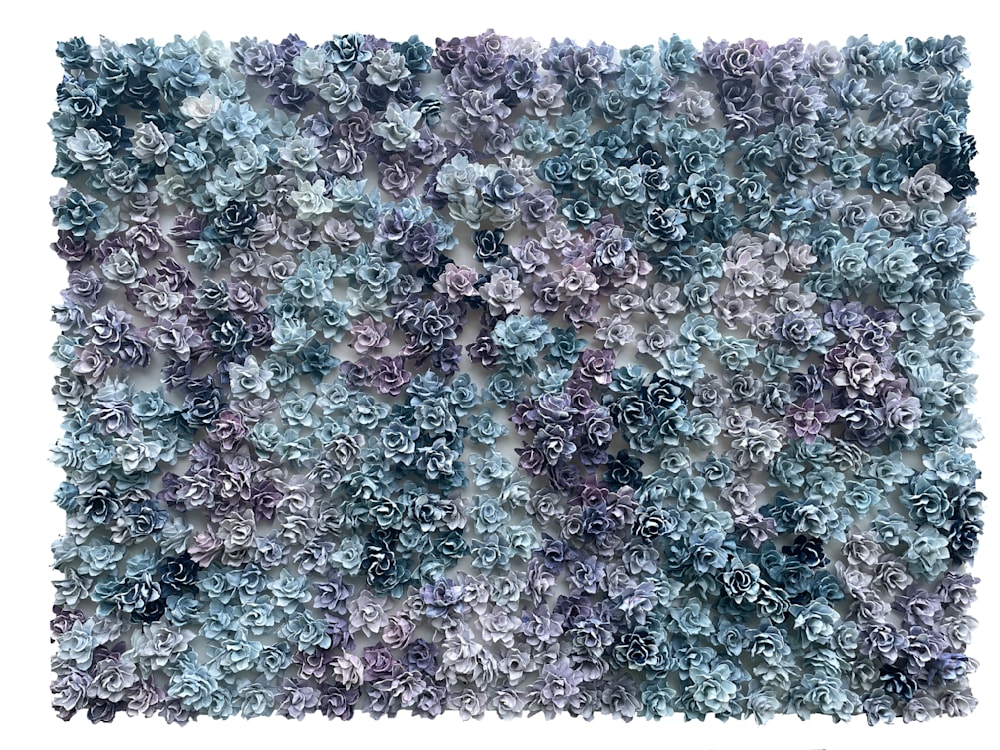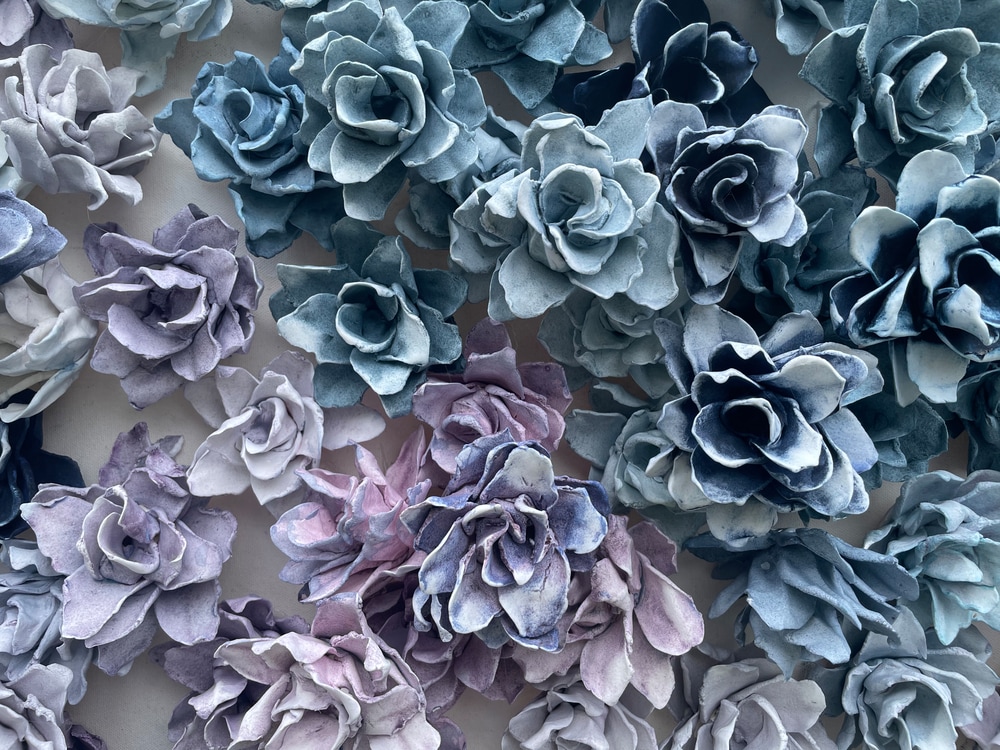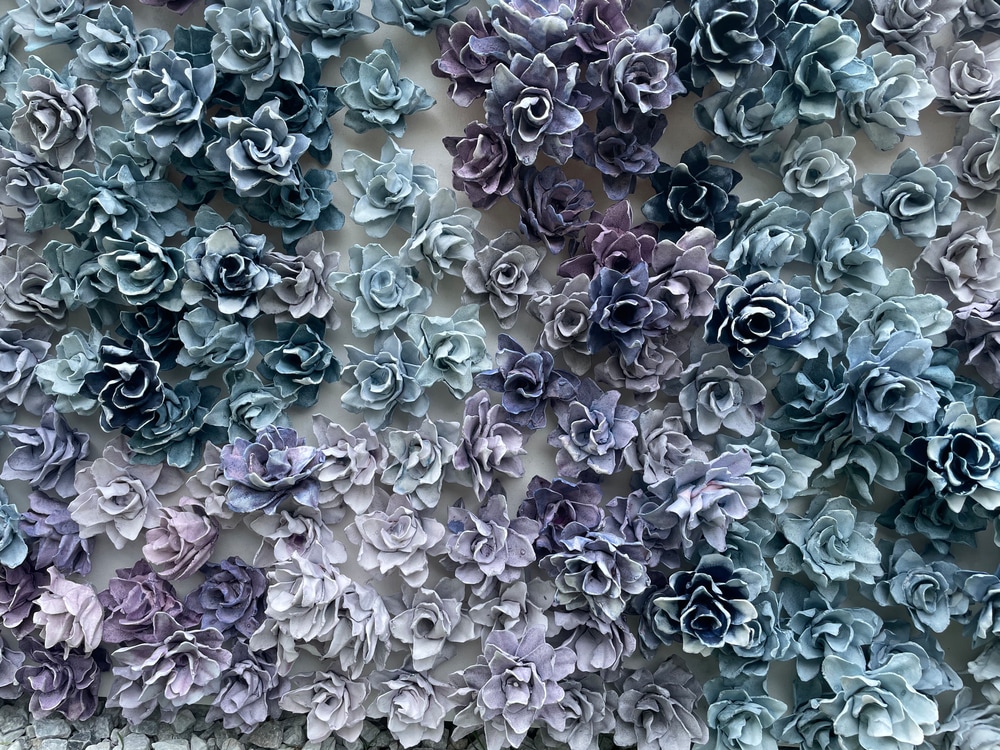 'Garden Bonanza Purpurite and Apatite 2', 66" x 50", 2021.
And finally, in July, I sold and shipped two of my rose Mandalas, 'Sky' and 'Rosy' to Washington, D.C. and at the same time, developed and sourced packaging for smaller original works such as these:
August will likely see the further development of the coral study as a towering multi-piece installation, as well as some more Renovation Project bark and rose works, similar to 'Renovation Project Work 1' created in May. In the piece created back in May, I used Sycamore tree bark that had fallen from a neighborhood tree back in 2007. I'd placed that bark in a specially marked box and carried it with me, through two moves, until finally using it in 'Renovation Project Work 1' in 2021. Little did I know that the beloved giant Sycamore in my new front yard would shed bark ad-nauseum. What I'd once considered rare and a treasure, I now consider a nuisance! Sitting in my Adirondack chair, drinking my morning coffee, on more than one occasion, I've been walloped on the top of my head by a huge piece of falling bark. Talk about in-your-face nature. Still, the process of the shedding, the furls created, the sculptural quality of the bark, has led me to collect it all once again rather than throw it away, and, despite the occasional wallop, has infused the desire to create.
Warmly,
Lauren
@laurennaomifineart